Why Should YOU Join Younique?
Do You Love High Quality Makeup? Do you like Making Money?
What is in the Younique Presenters Kit ?
Next time you go to MAC, Sephora, or Ulta or for that matter wherever you buy your makeup…. Ask them for $200 of makeup for $99… Demand that it come with a 20 to 30% discount after that for life… Tell them you also want free makeup for life after that …. And also tell them you want to be paid within 3 hours every time you recommend their products or send your friends in the store to buy their makeup. Ask them if they are going to send you on a paid vacation … See how far that gets ya  🙂
If you're not getting paid to wear makeup… Message me!
A beautifully simple Younique compensation plan.
Our Younique Royalties Program™ (compensation plan) is not only generous, but also one of the easiest to understand, and to explain to your prospective team members. Our greatest desire is that you become successful in your Younique business venture.
---
Younique's party and social tools are truly innovative.
Younique is the first direct sales company to market and sell almost exclusively through the use of social media. Our pioneered Younique Virtual Parties bridge the huge world of social media and the traditional home party business model. A Younique Virtual Party has no limits to your reach or who you can invite. This makes it so the traditional home party is not even necessary unless you choose to do it. We provide the innovative and interactive tools and invite you to tap into your own resources and connections that you already have.
Join Younique and Get paid instantly
We believe you shouldn't have to wait for your commissions. If you make a sale, we think you deserve your money instantly! Once your commissions reach $50.00 we provide you with your own Younique Debit Card.
We've made it easy for you to spend your money—your way! You can receive, transfer, or spend your money with you making the decisions and controlling your earnings.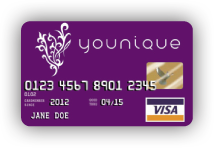 Treat your party hostess well and she'll keep coming back—with her friends!
We believe that Younique's Hostess Reward program is one of the most generous in the business. We've built it from the ground up in order to make it super easy, and most of all – fun! Your party hostess will be able to see her rewards add up, in real time, as orders for her party come in for her party. When the party's over, you won't need to go through the hassle of asking your hostess what she wants for her rewards, and then entering them in for her. She'll simply get the rewards the next time she places an order from your e-commerce website. Rewards for a party last an entire year!View the Party Rewards Chart
The Younique Triple Digits Club in Germany.  Join Younique today!
Join Younique and be one of the first 999 founding Presenters to join in Germany! You will be part of the exclusive Founders' circle, the first to bring something big to your country. This amazing start gives you the opportunity to build a team of people who love to help others, to buy and sell naturally based products that you won't be able to get enough of, and to share this with others. Our mission is to uplift, empower, and ultimately help women like you all over the world. You'll soon find that you absolutely love it, share it, and live it! Welcome to the Younique Family!
---
Join Younique and visit the Triple Digits Club pages for these other Younique markets to see how Presenters across the globe are doing.
Join Younique today!